Philippe Lemoine (France) tenor saxophone and Simon Rose (UK) baritone saxophone first performed together in 2016. They immediately discovered their shared interest in the 'otherness' that can be found in the saxophone.
So called 'extended techniques' in particular provide well for their exploration of a rich and unpredictable sonic territory. Since then, the Lemoine and Rose duo have worked in club settings, and frequently in galleries in which their performances have consciously explored the various spaces.
 The duo have collaborated very effectively with Lena Czerniawska (Poland), light projection and live drawing; translating this otherness in sound in a live visual dimension. They have also collaborated with Ingo Reulecke (Germany) dance, exploring physical and musical space.
 The inclusion of Michel Doneda (France) on soprano saxophone extends the conceptual foundations that can be heard on the duo's well received CD 'Séance' (Canada, 2018). Doneda's unique textural playing is an enrichment of the heavily timbral, multi-phonic otherness already found in the Rose-Lemoine sound-world. Working through improvisation, and emphasising close listening, the three work towards a mutually supportive shared sound world and a music that is greater than its parts.
This short film by Anil Eraslan present the duo's collaboration  with Lena Czerniawska, live drawing and light projection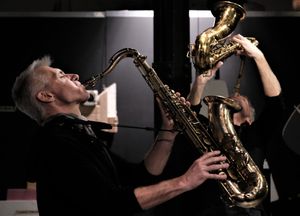 Séance
Séance
Philippe Lemoine / Simon Rose